Christmas tree how to be original and spend little
Christmas tree: how to be original and spend little
The Christmas tree is the symbol of this festive season, but sometimes it is not easy to understand how to decorate it. In general, the problems are related to space, the cost of decorations and the choosing the best tree. With a little research, we can find the best solutions for spend little money and create the perfect Christmas tree for every situation and involve other family members.
So let's take a look at how to create original Christmas trees, adapted to our needs and, above all, cheap !
How to choose the right Christmas tree
First of all, we need to understand which tree is best for us.
There are many on the market, but not all are suitable for our home. The first choice to make is between a real tree and a fake one. Don't forget that the real fir tree requires a lot of care and and attention during and after the holiday season, as it will inevitably grow tall if planted. It will also have to be moved to a garden, otherwise it will become a waste. The one in plastic, if it is well made, will last for many years.
But there are many variations of this type: all green, with snow flakes, completely white. The choice is very wide, you just have to understand the one you like and pay attention to the size to keep it at home.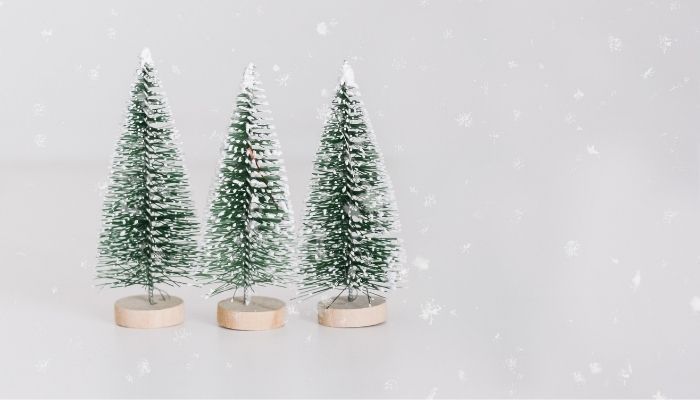 Really original Christmas trees
But what if we want get out of the routine of the usual Christmas tree ? We can opt for "trees" made from recycled materials. For example, with branches found while walking in the park, place the longest at the base and continue with the smallest. Or, using the same method, we can hang the tree on the wall to create a Christmas installation that will also save space !
If you lack space for your Christmas tree, you can always opt for smaller trees that you will use as ornaments, taking care to secure them to the surface where they will be placed.
What decorations to use to decorate the tree ?
A good way to decorate your Christmas tree would be to make homemade decorations. Among the first things that come to mind are the cookies to hang on the tree using a string, perhaps involving children in the process to entertain them. You can also use colored paper or newspapers You can use the materials you find in the house to make garlands and various decorations to hang, such as snowflakes or paper men.
You liked this article? So don't hesitate to share it with your friends on Facebook!